DRESS CODE
You will notice that our parishioners do not dress casually for church services. Since the changes that came about after Vatican II, few parishes have any kind of dress code. We still believe that modesty and appropriate attire are necessary, especially in church out of reverence for the Blessed Sacrament.
Please observe these minimum standards of dress for attendance at church services at St. Joseph's:
Woman and girls must cover their heads. (Chapel veils or mantillas are available for loan in the vestibule.)
Women and girls must wear dresses or skirts that cover the knee completely when sitting or standing; slacks, shorts, sleeveless, tight or low-cut clothing or dresses with long cuts or slits are to be avoided.
Men and boys should wear suit coats and ties. (Except in very hot weather)
Jeans, sports logo and other casual attire are inappropriate for attendance at church services.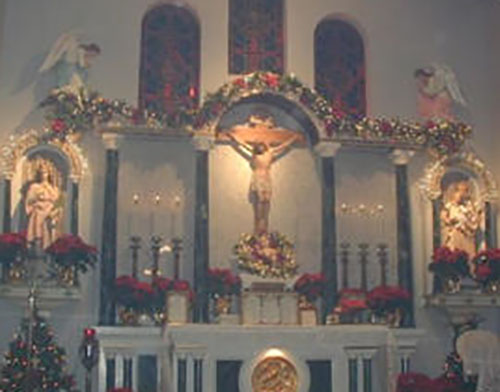 CHURCH DECORUM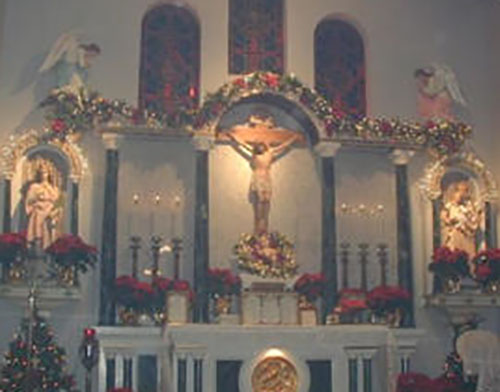 Our decorum at Holy Mass can give greater honor and glory to Almighty God, give good example and edification to others, and increase our faith and devotion to the Real Presence of our Lord in the Blessed Sacrament. The following are practical examples of the rule of decorum we should observe in church:
Always dress in a manner appropriate to Divine Worship.
Be on time for the start of Mass.
Upon entering the church, bless yourself with holy water (using the right hand). Genuflect on the right knee in adoration of the Blessed Sacrament.
Avoid using the center aisle, especially if Mass has begun. Use the side aisle and fill toward the center.
Avoid entering or leaving the church during the sermon unless necessary. The sermon may be heard in the social hall.
The cry room in the church is reserved for people with small children. Baby toys, food items, gum, and strollers are always inappropriate in church.
During Communion, please keep the line moving in a pious and orderly manner. Promote piety and prayerful contemplation by folding the hands in a pious manner.
At the end of Mass, allow the celebrant to leave the altar before exiting the church. Make sure to genuflect to the Blessed Sacrament when leaving.